Hello! My name is Amanda Biggerstaff and I am so excited to be joining Brookwood Elementary as a second grade teacher in the upcoming school year! This will be my fourth year teaching- my first three years I taught third grade at a school in Oregon. I graduated from Southern Oregon University with a Masters of Arts in Teaching and a B.S. in Elementary Education. As a teacher, I am passionate about helping students grow academically, socially and emotionally! I believe the best classrooms are formed by creating community , a sense of belonging, and, of course, fun; I am excited to cultivate that in my classroom at Brookwood!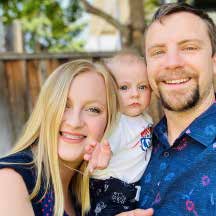 I am originally from Bakersfield, California, but have lived in Medford, Oregon for the last 16 years. My family and I have decided to go on a new adventure and move to the beautiful state of Utah! I have been married for five years and my husband, John, is also a teacher in the Canyon School District teaching special education. We had our first baby together in 2020- a boy named Liam! We also have two dogs named Sherman and Stanley. 
In my free time, I love spending time outdoors, riding bikes, going on hikes and exploring new areas! I also enjoy spending time with friends and family, reading, cooking, traveling and crafting. 
I can't wait to get to know the community in Sandy and teach at Brookwood Elementary School!