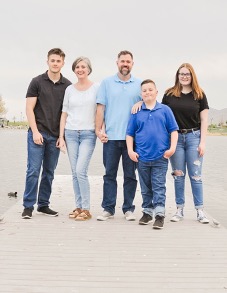 Hello Brookwood Elementary!
My name is Jennie Durham and I am your new IT Field Technician. 
I am excited to work at your school this year and I'm looking forward to getting to know all of you. 
A few things about me that you might not know: I went to Utah Valley State College, back when it was a 2-year college and got a degree in Music. I haven't always worked in technology.  I've been teaching piano lessons for 27 years, and still do.  I love to play the piano, love kids, and love to teach, so I'm very happy working in an elementary school. I'm starting a new eyebrow microblading business this year with my sister so I'm very busy! 
I have three children, Hallie who is a Junior at Utah State University and studies Animal, Dairy, and Veterinary Science (she loves cows!), Seth who is a Senior at Alta High School and is a great wrestler and student, and Ian who is a 5th grader at Sandy Elementary and also wrestles for the younger Alta Wingz and plays the cello in the orchestra there too. I livestream the Alta wrestling meets so you'll always see me right on the mats cheering for the Hawks!  We have two standard poodles, Lois Lane and Pepper Potts. Our family moved into an older home in Sandy last year so you can find my husband Adam and I working on fixer-upper projects or planning the next remodel stage of the house. We love to spend time in St. George, at the pool, or going to a movie as a family. If I have any spare time, I love to read, cook, and waterski. I try to read a book a week.  My husband and I also have a bbq catering business that we do for family and friends.  I love to read cookbooks and try new recipes. If I could spend the rest of my days lounging on a boat in Lake Powell with my family I would. It's my happy place!